Affordable care while your loved one experiences valuable connections & fun activities that help improve mental and physical well-being. Quality care that promotes independent skills and self-worth can extend life and keep families together longer.
Affords family caregivers the time to take care of their own needs
Allows spouses or children the ability to continue to work
Decreases family caregiver burnout
Provides a less expensive alternative
A safe and worry free place for your loved one to be while you are at work, accomplishing those important errands, or taking time out for much needed self-care.
Provides socialization, nutritious meals, exercise, outing & activities
Allows families to stay together longer
Decreases risk of boredom and depression
Enhances feelings of self-worth and well-being
Our Services
1. DAY PROGRAMS
2. EXTENDED DAY PROGRAMS
3. RESPITE STAYS - ONE DAY OR AN EXTENDED STAY
Our program allow seniors to maintain their independence longer by alleviating their boredom, anxiety, depression, and self isolation as they participate in programs that stimulate their physical and mental health, enhancing well-being and self-worth.
They are designed to provided a meaningful activity while developing relationship in a friendly environment. We also focus on working with seniors that may have begun to exhibit diminished physical skills and/or cognitive ability.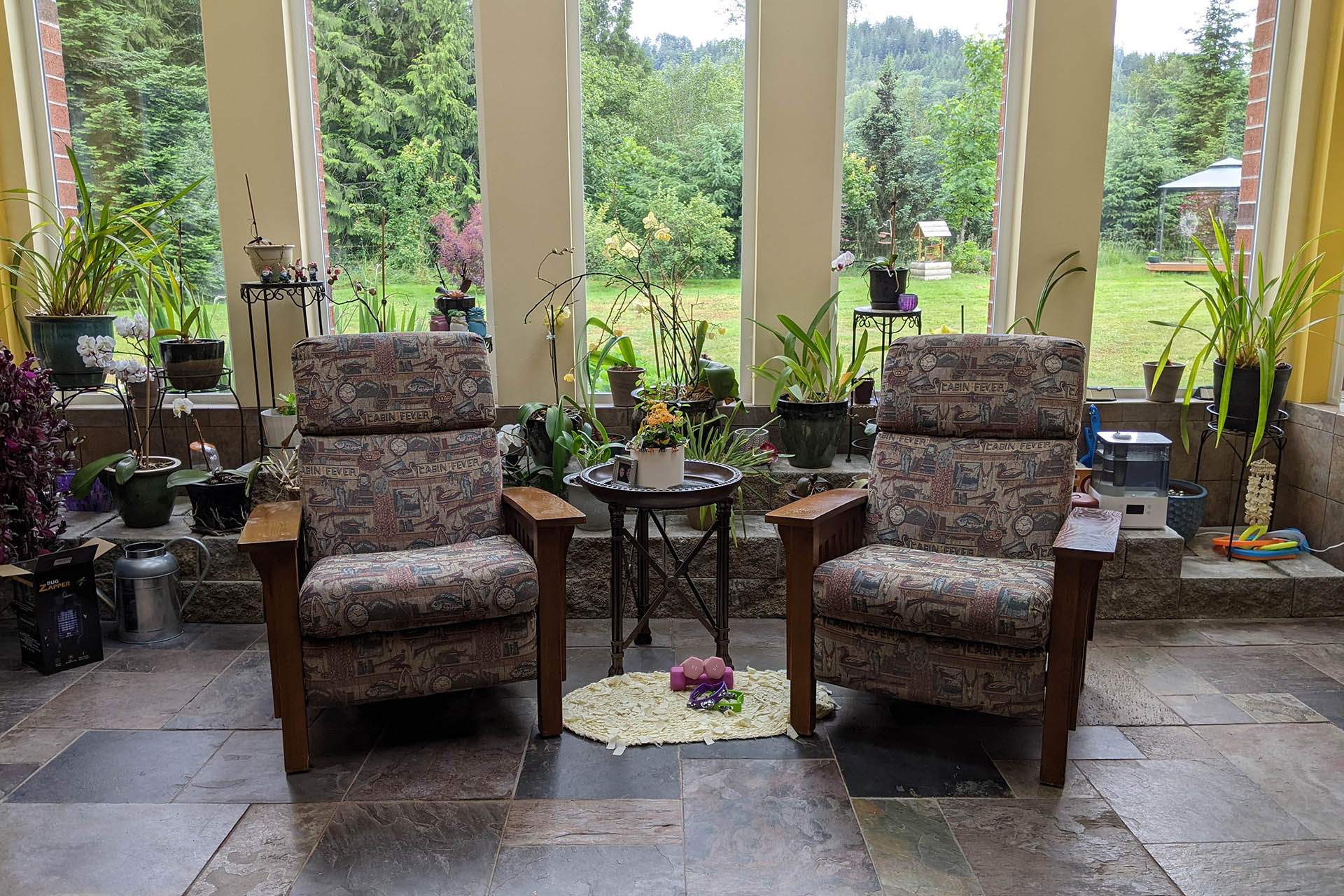 Testimonials
Echo Valley Respite has been a life changer for my husband, myself and my Dad.
24/7 care for a loved one with dementia just is not sustainable and I was feeling very overwhelmed.
Finding good care is a very difficult process and I feel so blessed to have connected with Kris at Echo Valley. My Dad absolutely loves it there and I have complete confidence that he is receiving the capable and compassionate care he needs.
Victoria, Daughter
Kris and Echo Valley Adult Day Care and Respite were an absolute lifesaver for our family and the care of my mom. Kris's extensive knowledge and experience with seniors and dementia, along with her graceful, supportive, and calm demeanor were an invaluable resource in helping us navigate my mom's changing needs. Most important of all, Echo Valley was a wonderful, engaging and calming place where my mom felt safe and loved; and gave her spouse and family respite so we could rest, work and make sure we were in the best frame of mind to give my mom loving care when she was at home.
Michele, Daughter
The time came when we all needed more support and guidance and that is when you, Kris (and family!) and Echo Valley Respite stepped in. I think each of us, as family members, was unaware of how much stress and strain we were under; each in different ways. Fear, frustration, sadness, exhaustion, confusion, lack of communication, doubt, anger. All of these, and more, reared their ugly heads.
With Echo Valley Respite, Mom had a beautiful, peaceful, relaxing, loving, and fun environment to be in as well as benefiting from engaging activities and conversation. She loved coming to spend time with you and the Echo Valley team! We hoped for all that; but you blew us out of the water with so much more. You reassured us with your amazing professionalism, experience, and honesty. You provided time and space for refreshing and processing for us as family members. You facilitated improved communication between us as a family as well as with medical professionals and our long-term care insurance company. You handled emergencies and long nights with such calm; reassuring us. You have helped us with decision making and to process our grief along the way by speaking truth, in love, to us.
In the last week of Mom's life, you were right by our side. You helped us with so many resources and getting hospice engaged seamlessly. You demonstrated your true compassion and care for those that you serve. You have been a beautiful reflection of light and hope in a challenging time. Thank you, Kris
(and to your family too!). We consider you family.
Mary & Mike
Kris Mason and Echo Valley Respite have been a wonderful resource that allowed my wife to live at home and also receive loving intermittent care with Kris and her family in beautiful Echo Valley. It gave each of us an opportunity to "recharge our batteries "and look forward to reuniting at home. 
Kris is a trusted advisor and loving friend to seniors and their families, helping us navigate through the difficult times and decisions. I can't imagine anyone more able to care for a loved one!
Bill, Husband
Our Family Caring For Your Family
Availability
Join us for day care: available weekdays, Monday through Friday
Call to reserve an overnight, weekend or extended respite stay.
Affordable Rates
We are dedicated to providing affordable rates.
Call for package rates on overnight, weekend or extended respite stays.
Home Cooked Meals
Seasonal menus include fresh produce and berries harvested right from Echo Valley Farm. All meals and refreshments are prepared to accommodate individual needs.
.
In-Home Activities
Settled on Echo Valley Farm, we are in a unique position to be able to provide fun farm-to-table experiences. Seniors can spectate or share in any of our daily ventures of collecting eggs, feeding chickens, tending the garden, gathering produce, and picking berries off the vine. Seasonal harvests are incorporated into baking activities and meals. We also know how to have a good time with music and movement, art activities and games.
Available Outings
Whether it's relaxing with a spa day (complete with manicures and pedicures!), visiting the senior center, celebrating birthdays, or enjoying coffee, we love getting out and about! Seniors can join in on our fun facilitated outings.
Quality Care
Our care program provides meaningful activities to stimulate physical and mental health, enhance well-being and self-worth. By focusing on developing strong connections in a friendly environment, our everyday activities help alleviate boredom, anxiety, depression, and self-isolation.
Hygiene care is also available via our accessible walk in shower with bathing assistance for personal care needs.
.